Government General Degree College, Chapra is a rural Undergraduate General College, situated at the outskirt of the village Shikra in the Chapra Block of Nadia district, approximately 3 km from India-Bangladesh International Border. Affiliated to the University of Kalyani, the college was established on 30-10-2013 and is one of the four newly constructed public colleges in the district of Nadia. The college is surrounded by enriched cultivated crop fields possessing both cultivated and wild crop relatives, naturalized and exotic flora and fauna of Indo-Bangladesh in origin, especially diversity of snakes attracting researchers in the field of herpetology to familiarize this rural-based remote and economically backward minority college to the global arena. The college will be a world biodiversity study centre in very near future.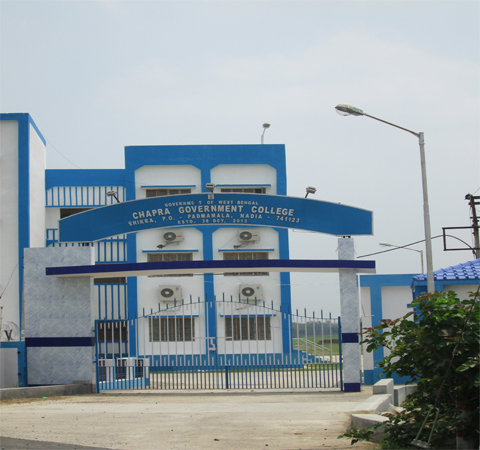 "Educate and raise the masses, and thus alone a nation is possible"
Swami Vivekananda's clarion call to the nation to educate the masses and uplift the poor is the motto of the institution, Government General Degree College, Chapra. The college was established on 30-10-2013, to promote education and impart knowledge to the socially backward areas surrounding the village of Shikra. Since its inception, the college has seen an increased enthusiasm among the local population towards pursuing higher education. They are now motivated to fulfill their dreams and their ambitions of entering the realms of higher education and knowledge. At the same time, students not only from far and wide areas of other other remote villages under Chapra block but also from other neighbouring blocks in Nadia district are now coming to study at this institution.